Sportsbook Funding + Deposit Methods
Online gamers know that there are many, many sports books on the worldwide web, and a plethora of deposit methods listed at each. Many of the sites accept players in the U.S., some do not. Those that do understand that U.S. players are constrained when it comes to the preferred methods of account set up.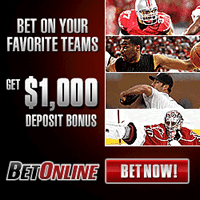 At SportsbookPayout.com, we look at the banking and account policies of legal online sports books and discuss the pros and cons of each. We also cover what is changing, or may change, in the way U.S. laws and state statutes dictate what Americans can legally do online, including depositing funds in accounts at U.S.-based or international websites. Since U.S.-based sports books are rare to the point of near non-existence, sports gamers usually look elsewhere for legal sites that accept U.S. players. Today we'll explore how deposits are made by U.S. and non-U.S. players.
Sportsbook Deposit Methods That Work For USA Players
While citizens of the U.S. usually face certain limitations regarding deposit methods at online sports books, enough options remain for U.S. players to get in the game in a way that meets their needs. Several factors, including the origin of the site and the policies of the bank used by the player will affect these choices.
Credit + Debit Cards - Far and away, Visa credit and debit cards are the preferred method of both U.S. players and the sports betting sites that welcome them. Along with American Express, Visa cards are universally recognized and honored. Use of these cards, and in some limited cases, Mastercard, allow players to instantly set up their accounts and begin enjoying wagering on their favorite sporting events. Fees and surcharges sometimes apply but these are small, usually no more than 5%.
Money Orders + Cashier's Checks - Sometimes, the credit card option doesn't work, because a player's banking policies will restrict the transaction. If a player finds this to be the case, other options include checks and money orders. These take a lot of time, for obvious reasons. First, they have to be mailed to the site destination, then sorted, processed and negotiated. Money orders usually include a fee charged to the player, as do certified checks. Very few sites will accept a player's personal check, and those that do require that check to be honored by the issuing bank before funds are made available.
Cash Wire Transfer Services - Wire transfers via Western Union or MoneyGram are viable options for players who can't or won't use their personal bank account or credit card. These options are much quicker than checks or money orders, and funds are available sooner. There are fees involved, with the amount based on the size of the deposit being made, but many sites will reimburse the fee to players when they start wagering. This method will usually allow for lower transfer limits at the site.
Gift + Prepaid Cards / Vouchers - One method growing in popularity is the use of gift cards and prepaid Visa or American Express cards. These are accepted like cash at any site that welcomes U.S. citizens, and players can purchase these at many retail locations in the U.S. Virtually all sites will accept one or more of these cards, but players are required to call the site's customer service department for official verification and authorization.
Online Sportsbooks That Have Easy + Numerous Funding Options
While deposit methods may be similar at sites accepting players from the U.S. and other nations, the sites themselves will have particular strengths and weaknesses affecting their appeal to U.S. and international players. We've found two that stand out – one specifically designed for U.S. sports bettors, and one highly popular with international gamers.

If you are thinking about joining, know that this is a great online sportsbook for U.S. bettors. Bovada enforces that bettors need to be at least 18 years old to gamble, and accepts players in all U.S. states with the exception of Washington, New York and Maryland.
Bovada offers players a variety of great sports odds for leagues in the Unites States and around the world. Players who choose Bovada will receive a 50 percent bonus up to $250 on their first deposit made into their account. Bovada is a safe and legal betting option for U.S. players, operating out of Costa Rica and catering to the U.S. bettor.
More: Find Out More About Bovada's Payout Methods - Go To Bovada Sportsbook

BetOnline Sportsbook is a favorite among sports bettors all over the nation. This website offers betting opportunities on a vast number of sports and teams popular in the U.S. + internationally. BetOnline commonly has lines listed for NFL football games alongside Premier League Soccer and other leagues around the world.
Deposit methods are plentiful for players who have had no luck before – the list of approved methods includes major credit cards like VISA, and American Express as well as prepaid and bank varieties of the cards. Other ways to quickly deposit would be sending a cash transfer through a service like Western Union. Finally if all else fails, BetOnline will even take a money order or cashier's check but do know that it takes longer than the other methods we mentioned.
More: Find Out More About BetOnline's Payout Methods - Go To BetOnline Sportsbook
It's clear that U.S. players, while welcome at many sports betting sites, are limited in terms of deposit options. International players have many more choices. We'll be watching as the evolution of the online gaming industry, and the laws affecting it, continues.